Product description:
HELLO! ARMCHAIR 4 S
Uniquely comfortable and practical conference armchair of HELLO! Series.
It will be perfect to a conference room, a reception or company's café, light weight of the armchair allows quick interior rearrangement.
Invisible resistant but lightweight framework of the armchair provides high durability of Hello! Series
The armchair is fully upholstered, there are prepared for you three types of natural leather and five types of resistant fabrics in interesting colours
All fabrics available for this model are included in the model price list
Resistant, metal legs are available in two colours: alu ( light gray, mat) and chrome (shining as presented in the main picture); both versions of the base are included in the model price list
The base (each of the legs) of the armchair is also equipped with the self-leveling foots,
The armchair has two-year warranty period which is provided, for your full comfort, in door to door service. In case of any possible fault the repair is made at the place where the armchair is used
The armchair will be always delivered to the indicated address FREE OF CHARGE in the whole country.
Dimensions of the model: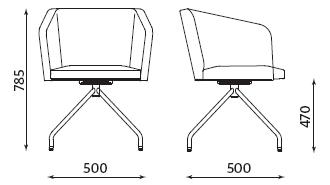 PRICE LIST :
NAME

GRAIN

LEATHER

SD/LE

ERA

(CSE)

CONTRACT

(YN)

MIKRO

M

ECO

LEATHER

LEATHER

SP

BONDAI

SEMPRE

VALENCIA

NEW STYLE

HELLO! 4S ALU

4005

NOK

3305

NOK

3305

NOK

3050

NOK

3050

NOK

3420

NOK

3150

NOK

3150

NOK

3350

NOK

HELLO! 4S CHROME

4065

NOK

3370

NOK

3370

NOK

3105

NOK

3105

NOK

3505

NOK

3199

NOK

3199

NOK

3370

NOK
GRAIN LEATHER
ERA (CSE)
CONTRACT (YN)
MICRO (M)
ECO LEATHER
LEATHER SP
BONDAI
SEMPRE
VALENCIA NEW STYLE